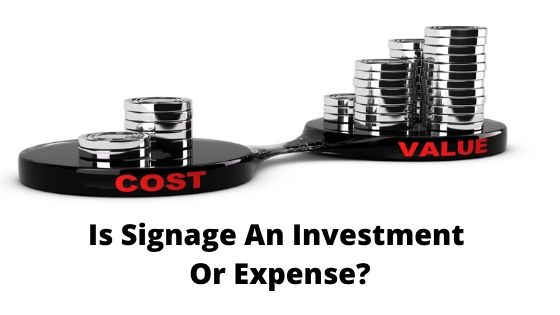 Is Signage An Investment Or Expense?
Good and experienced businessmen and women do not make any expenses without considering it is an investment or cost. For that reason, oodles of business owners that want to incorporate signage to their business normally find it difficult to fathom whether the signs are investment to their business or just a cost. That is simply what prompted this article in providing the answer to this particular question. There are lots of factors which this article is going to consider before coming to conclusion whether digital sign is a cost or investment to a business.
The Need for Visibility to Your Business 
If you are among those businessmen and women battling with issue of visibility to your business, or your business is in the midst of other large and giant businesses making your business invisible to the public, what you need is digital sign. You can make your business quite visible and even a household name to all in your country, locality or even to the world with digital signage. Having a good digital sign can easily bring out your business to the limelight of the public making it easy for you to reach out to your target audience and also attract more customers to your business.
Business Branding With Well Built Outdoor Signage
Branding your business and establishment is one of the things you must do before your business can secure a place in the mind of your targeted audience. But, you need a well effective means of branding for you to be able to get exactly the traffic you want for your business. There are many brand specialists all around the streets and towns but most of them normally charge huge amount of money to render heir service. That is why you simply need to leverage outdoor signage in your bid to effectively and easily brand or rebrand your business for easy visibility of your brand and product promotion. Contacting experts in United Arab Emirate for your digital sign will make it easy for you to enjoy perfect branding to your business at affordable rate.
Improve and Enhance Your Product Sales with Signage Dubai 
Your ability to sale your product after production is what that can determine the success of your company. That is why you have to do everything possible to ensure that your product is acceptable in the society so as to increase your sales and promote your brand. You can easily increase your sales when you place your digital sign in a place with high traffic and volume of passersby. That is why you have to ensure that you leverage the effectiveness of digital sign in marketing and sales of your products and services. The experienced and reputable digital sign producers in Dubai are ready to see to it that you increase your sales with well-built and technologically improved digital sign.
Make Your Company's Image Attention Grabbing with Digital Sign Board 
Your company's image is what that determine your brand popularity and your sales at the end of the day. That is why you have to do everything possible not only to protect the image of your company but also to enhance it for better before your target audience. The simpler and easier way to promote image of your company is with the help of a good and high quality digital sign.
Enjoy Peace of Mind and Sleep Well At Night with Good and Quality Signage
For you to enjoy peace of mind and quality sleep at night, you have to make sure that you go for quality digital sign. Though, the initial cost of your sign may be high when you go for quality product yet, at the long run you will stand to enjoy the cost effectiveness as well as peace of mind in your investment. Therefore, digital sign is an investment and not just a cost to a business.
Please visit our web site www.sadafdesigns.net to know more about us.