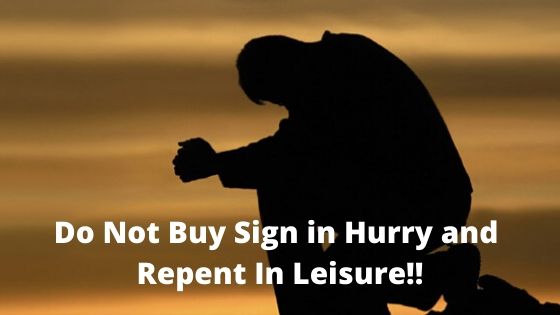 Do Not Buy Sign in Hurry and Repent In Leisure!!
Do you want to buy a sign for your product advertisement and branding? Are you surfing the internet for best sign to use for your company? Or you are in hurry thereby looking for any available sign to buy online? The simple advice which this article has for you is "Do Not Buy Sign in Hurry and Repent in Leisure!!" Really, most business owners have already fallen victim of buying sign in a hurry making them to repent when they supposed to be enjoying leisure on their purchase. So, this article is about to provide you with vital information on the factors you need to consider before going ahead to buy signage for your brand advertisement and marketing.
Factors to Consider Before Buying Digital Signage
There are lots of factors you need to consider before going ahead to buy sign board for your branding and product marketing. This is to make it easy for you to improvement your business and make your brands unique from others. Also, you will not live to repent in leisure when you consider these factors before going ahead to make your purchase of sign.
Confirm Stability Of The Company: You have to confirm the stability of the company you want to contact for your sign through easy to reference customers. Ask more about the company history and their reputable in service as well as confirm the source of their LCD or LED screen sign.
Find out How the Digital Billboard Was Built: The construction, engineering and materials used in design of the sign you want to buy is of great important.
Make Sure There Is Warranty: You need not to jump into buying a sign without confirming the duration of warrantee offered by the manufacturer. That is among the factors you need to ensure that you confirm which made it bad for you to buy sign in a hurry.
The Easy Way to Choose Sign Company for Your Signage
If you want to choose sign for your product marketing and branding, there are method you need to follow and the procedures you need to observe. You need not to just select a sign company simply because they offered their product at affordable and reduced price. That can easily make you to end up in regret after making your purchase. You have to make sure that the company you want to contact have dedicated service department that will be able to attend to you when you need their help. More so, you need a company that will offer you easy to operate digital sign. These are reasons why you need sign board companies in dubai when you want to make your purchase.
How to Decide a Right Signage for the Current Requirements
Deciding on the right signage for your current requirements and needs is very important before going ahead to make your purchase. You have to confirm the nature of your service or product before buying a sign that will effectively speak well about your brand. More so, your goal will determine the sign that will effectively suit your current requirements.
Go For Best Digital Signage Software for Your Company Branding
The software you selected for your digital sign will determine the quality of service you are going to get. That is why you have to make sure that you go for the software designed for range of applications. Most companies in Dubai are presently offering digital sign software that can be used for many applications like lobby reception, cafeteria, student lounges, call center, break rooms, elevator bank and others.
Communicate With People about Your Brand with Signage Dubai
For you to effectively communicate with your targeted audience you have to draw their attention. Since most people are already used to reading things through screens like TV and mobile devices, communicating to your customers through signage dubai can be highly attention grabbing. That is why you have to ensure that you incorporate this technologically improved means of advertisement to your company.
Please visit our web site www.sadafdesigns.net to know more about us.