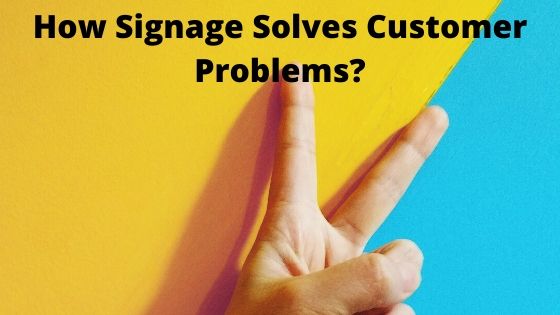 How Signage Solves Customer Problems?
Digital signage is a display used to persuade and inform people about a brand, product and services. This sign is popping up in public places in different parts of world and the number of retailers as well as transit systems using this method of advertisement keeps on increasing day by day. It is being used in most campuses, corporations and government institutions making it highly popular in the world. More so, the popularity of this technology can easily be linked to the affordability over other forms of advertisement. But the problem is how this can help to solve customer's problem.
Signage Enhances Company Image with Ease
Do you own a company and looking for a way to enhance image of your company and brand? You are not to worry anymore as what you simply need is to leverage innovative and well digitalized signage in your marketing. The way your company's image is displayed on this special technology will determine how people are going to regard your company. So, since this improved technology is made to display name and content in an interesting and appealing manner, the image of your company can easily be improved when you start advertising your products and services through this latest and well digitalized advertisement technique.
Leverage Easy Branding Of Your Company with This Special Kind of Sign Board
Lunching your brand through this special kind of sign board will increase your chances of making a mark in the mind of your potential clients. Your brand can easily be reorganized when you do it through this perfect and technologically improved system. You need not spend all you have contacting a branding agency when you want to rebrand your service or product. This is because, the best way to do that is to make your service and product name popup on the digitalized advertisement media. That alone can take your business to the level you want in terms of popularity.
Showcase Credibility of Your Brand through Led Screen Signage
Your ability to inspire believes or trusts in the mind of your potential customers and clients simply lie on the quality of your advertisement. If you showcase your product as the best quality in your locality or even the world, that is exactly how people are going to see it. So, the credibility of your brand can easily be determined through the quality led screed sign you incorporated. For that reason, you will be able to inspire more believe and trust in the mind of your targeting audience when you install either marble or stainless digitalized sign for your brand advertisement.
Differentiate Your Brand from Others through Your Outdoor Signage
Honestly, you need to make your products and services different from every other brand within your area. The quality of your advertisement will determine the category people will place you brand. More so, you can inculcate uniqueness in your brand simply by utilizing top quality and well digitalized outdoor signage for advertisement. In order to make your brand different from others, you have to select the sign or status that is suitable for your brand. You need not go for status or sign made for coffee shop whereas you are running laundry cleaning service. This can make it difficult for you to increase your customer base. Also, making use of high quality signs like 3D letters and others can make your brand different from other competing brands around you.
Welcome Your Visitors to Your Business with Digital Signage
There are lots of ways by which digital sign can help boost your business. You can easily use it to welcome your customers, show your p employees what it is for lunch as well as showcase meeting schedule in your office. That will make it easy for everyone in your establishment never to forget about the event. So, are you intending making branding your company? Just make use of the aforementioned mean of advertisement.
Please visit our web site www.sadafdesigns.net to know more about us.